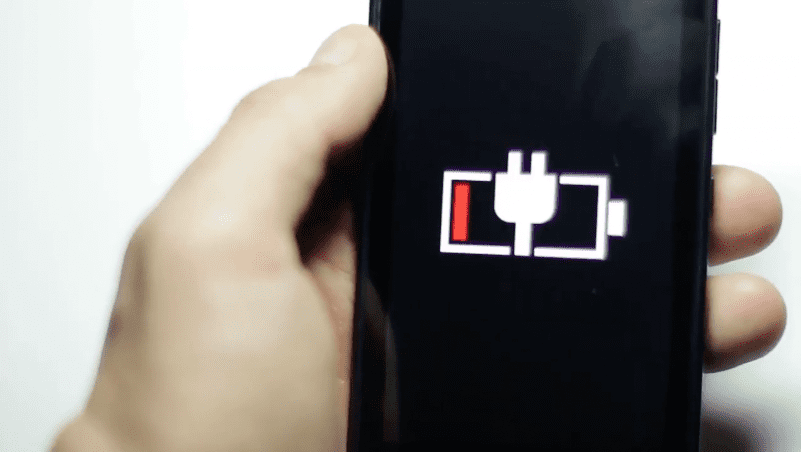 You want to enjoy a beautiful night out under the stars with your camping buddies, and want to take a photo to capture the moment. There's just one problem though – you run out of battery for your mobile phone, and there's no outlet anywhere!
We wouldn't want this to happen to you! That's why we've come up with this definitive list of the best power supply kits for camping that will keep you charged up all the time for that weekend camping trip.  
We will review the top 10 camping power supplies on the go, so you're always powered up no matter how far you trek. 
Camping is all about connecting with nature and relying on what's on hand and what's around you, but sometimes we still want the comforts of home. Gone are the days where a power outage or low battery meant you had to live off-grid for a few days. There are too many gadgets to take today while hiking, too. Much as a sleeping bag keeps you from lying literally on the ground, portable power supplies make camping and other outdoor activities a lot more enjoyable, particularly if you have battery-powered gadgets that can run out of juice anytime.
So, what exactly is a portable power supply?
This is a gadget that allows you to charge all your battery-powered electronics during outdoor adventures. These electronics range from solar-powered gadgets, pumps, power inverters, and battery packs.
So before you go on your next outdoor adventure, check out our list of these top 10 camping power supplies that you'll want to take with you as a safety backup. This list contains solar kits, the cheapest compact battery packs, lightweight solar panels, mobile cases with built-in backup batteries, and everything else in between.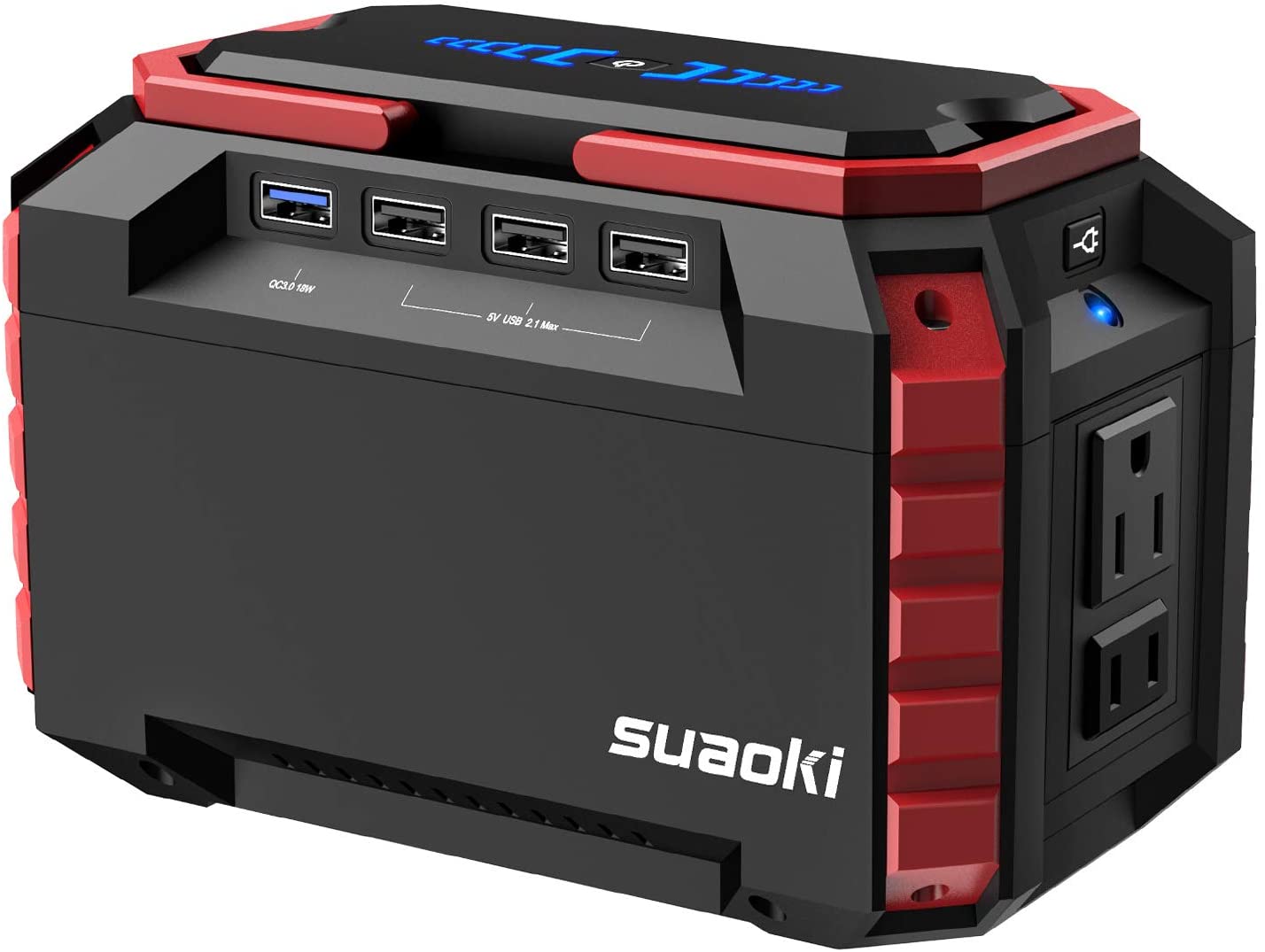 The Suaoki Portable Power Station might not be as compact nor lightweight as a normal mobile phone power bank, but it has plenty more features that can come in handy, especially on remote camping, boating, or fishing trips, or even in emergency cases like power loss in your house.
This portable power station isn't just about charging gadgets. It also has 2 AC ports, 4 DC ports, a bright camping torch, and several USB ports. How large is Suaoki's charging capacity? Try plugging in a laptop, a tablet, and bluetooth speakers all at the same time with its three standard USB ports then you'll see just how monstrous this charging station is.
Both of its AC sockets are tight enough to keep cords from slipping out. One of our favorite features with this power supply is being able to recharge the portable power station with Suaoki's own solar charger, which you need to buy separately.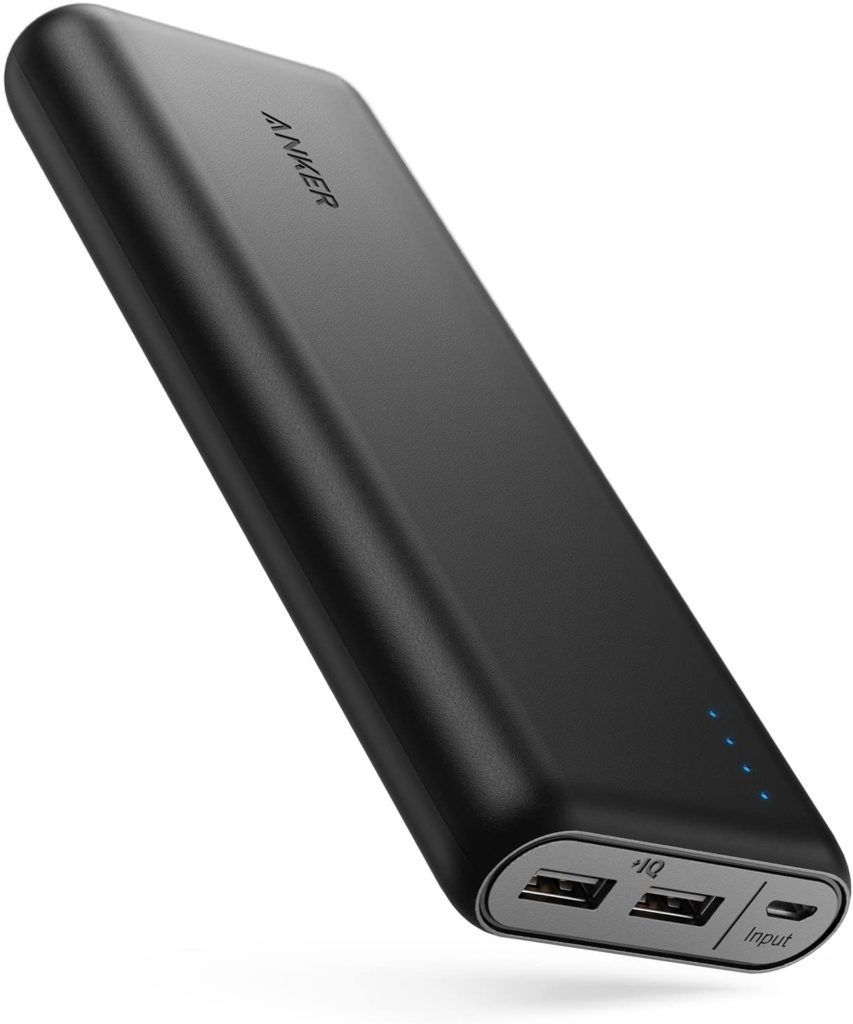 Anker PowerCore is an excellent option for those looking for something handy and can do fast charges for smaller handheld devices that won't break the bank. According to Anker, the PowerCore can charge an Apple iPhone seven times, a Samsung Galaxy S6 five times, and an iPad mini twice before needing to recharge the power station once again.
The new hardware – either the Voltage Boost or the Qualcomm Quick Charge, depending on the model – helps the PowerCore recharge quickly, meaning you don't lose precious time using your gadgets right away. Plus, it's loaded with industry-leading 4.8 amps, which provides enough power to let you simultaneously plug in any combination of two devices at full speed.
Link to purchase Anker PowerCore 20100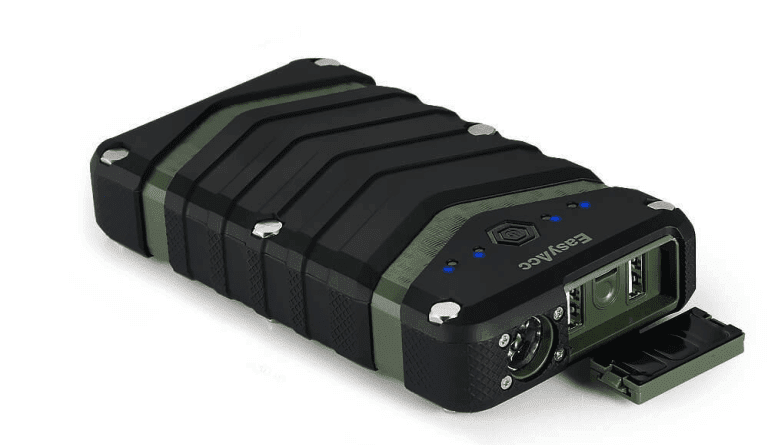 While the EasyAcc Rugged Outdoor Power Bank is not light enough for daily use, it does help you take your outdoor activities to the next level. This compact, waterproof supply is reliable and ideal for camping adventures where unpredictable weather is the norm. With an IP67 grade, EasyAcc can be submerged up to 3-feet deep water for 30 minutes without leading to any damage.
Its battery pack is also coated by a dense rubber casing certified by the CE, FCC, and RoHS to prove its durability despite drops and other shocks. Other neat features include the protected charging port to keep it safe, the LED torch, and the charging meter. The built-in flashlight has different modes to choose from, like normal beam, glow, and SOS illumination.
For those ascending mountains or venturing into somewhat more extreme areas, this power bank may just be your lifesaver. Its manufacturer says EasyAcc Rugged Outdoor Power Bank can charge an iPhone up to seven times while a Samsung Galaxy S6 can be charged up to five times. To fully charge the EasyAcc, keep it plugged for about 12 hours.
Link to purchase EasyAcc 20,000mAh Rugged Outdoor Power Bank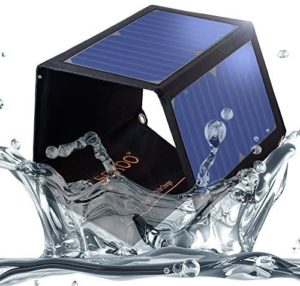 Tired of spending the night before a camping trip pre-charging your power banks before an adventure? SOKOO's Portable Solar Charger will change all that.
If you think a solar panel is extremely delicate and not the most ideal power supply to bring with you outdoors, this model will definitely give you a new perspective. The SOKOO solar charger's most outstanding feature is its foldability. Yes, you heard that right. This solar power supply can fold for easier storage. It's made of robust PVC plastic and is fully-water resistant, giving you peace of mind in times of a sudden rainstorm or being in a highly humid area.
In terms of portability, its small size ensures it can be slipped into any room or, using copper-alloy eye-holes, it can be conveniently attached easily on a lead or carabiner. It's also really lightweight— weighing only 17.5 ounces. However, though you get instant access to a charge anywhere you are, the SOKOO has only two USB charging ports. That may be a turnoff for anyone hoping to plug more devices.
Link to purchase OKOO 22W 5V 2-Port USB Portable Solar Charger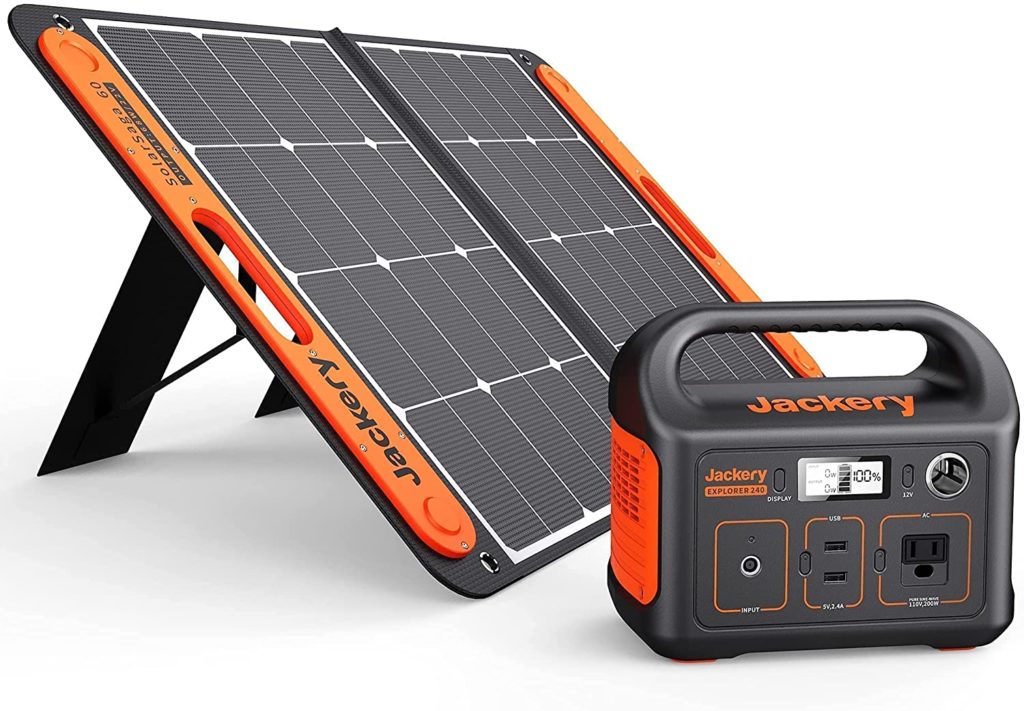 The Jackery Explorer 240 Portable Power Station is kind of like carrying a green, mini-generator in your hands. You can charge the power station either by a wall outlet, a car outlet, and its proprietary Solar Saga 60 watts solar panel, which is sold separately.
The Jackery contains a whopping 67,000 milliampere-hour lithium-ion battery that can supply power in power-saving mode for up to 6 hours. Its AC performance can control devices not exceeding 200 watts, and its operating time is largely dependent on plugged gadget power consumption, which allows for 2 handheld devices to be charged simultaneously. At just 6.6 pounds, this commodity is lightweight and can be comfortably transported on the go. This power station has an LCD monitor screen showing battery status and input and output charges.
For a mini-generator, this unit is impressively quiet and environmentally friendly, and can be combined with any matching solar panel.
Link to purchase Jackery Explorer 240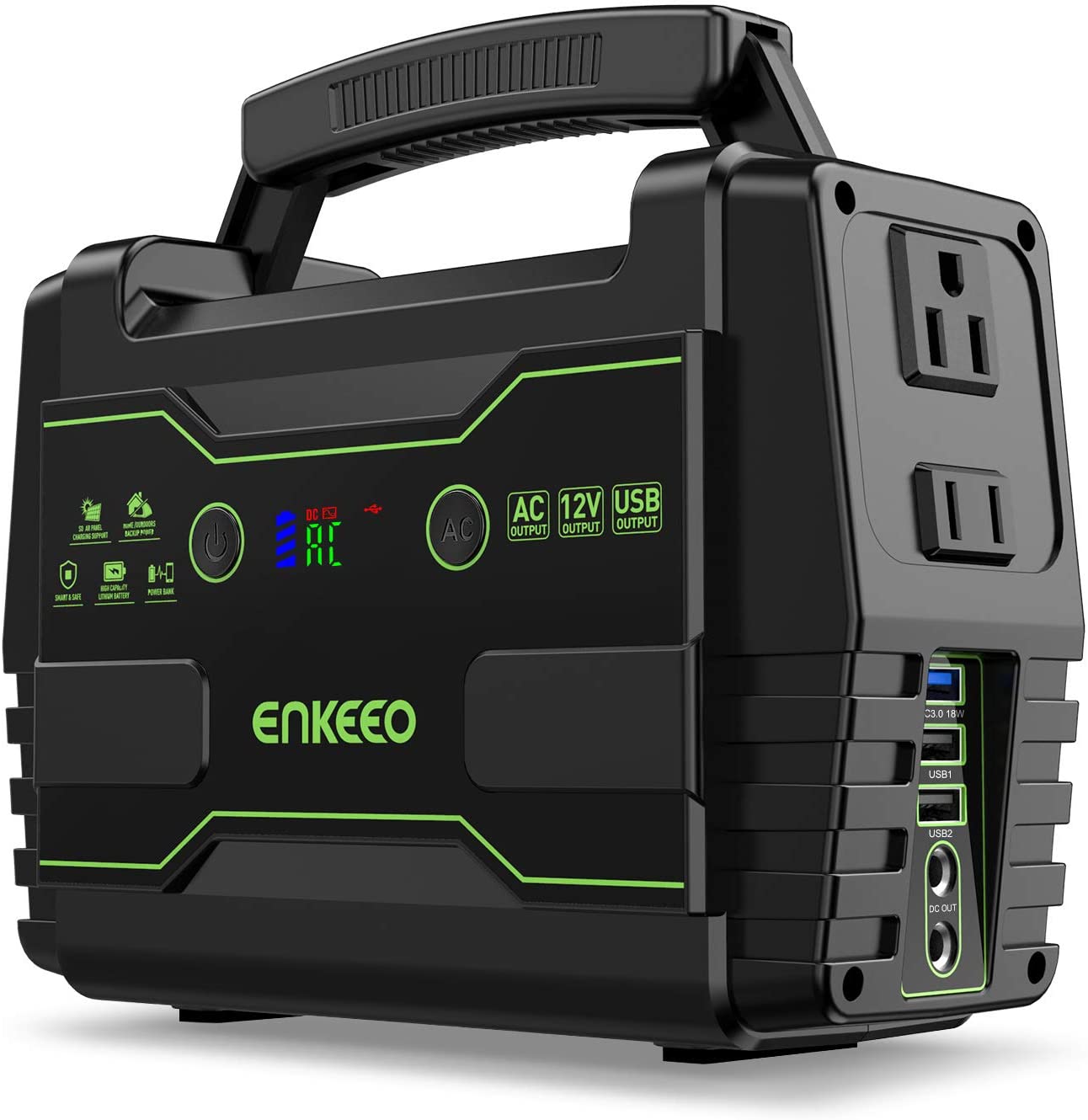 With the Enkeeo S155 Portable Power Station's mega capacity of 155 watt-hours, you're guaranteed a product that's not just for fun camping trips but also offers power storage during emergencies, such as power outages at home.
This power supply has an AC power threshold of 100 watts, and if you happen to plug in a device that's beyond that limit, the Enkeo will power off immediately to keep you safe from any flare ups. All you need to do to reset it is by plugging it back to an AC wall adapter and it will turn on again.
With up to seven ports, like AC, DC and USB, you can plug in mobile phones, tablets, laptops, drones, cameras, and even a small, portable refrigerator. There are three ways to recharge this portable power station. You can opt to charge it with an AC wall socket, which takes at least 7 hours for maximum charge. It can also be charged by a 50-watt solar panel, or through your car's cigarette adapter. Easily turn on an emergency LED flashlight, too, for sudden power loss. It weighs only 3.7 pounds and features easy-to-carry foldable handles.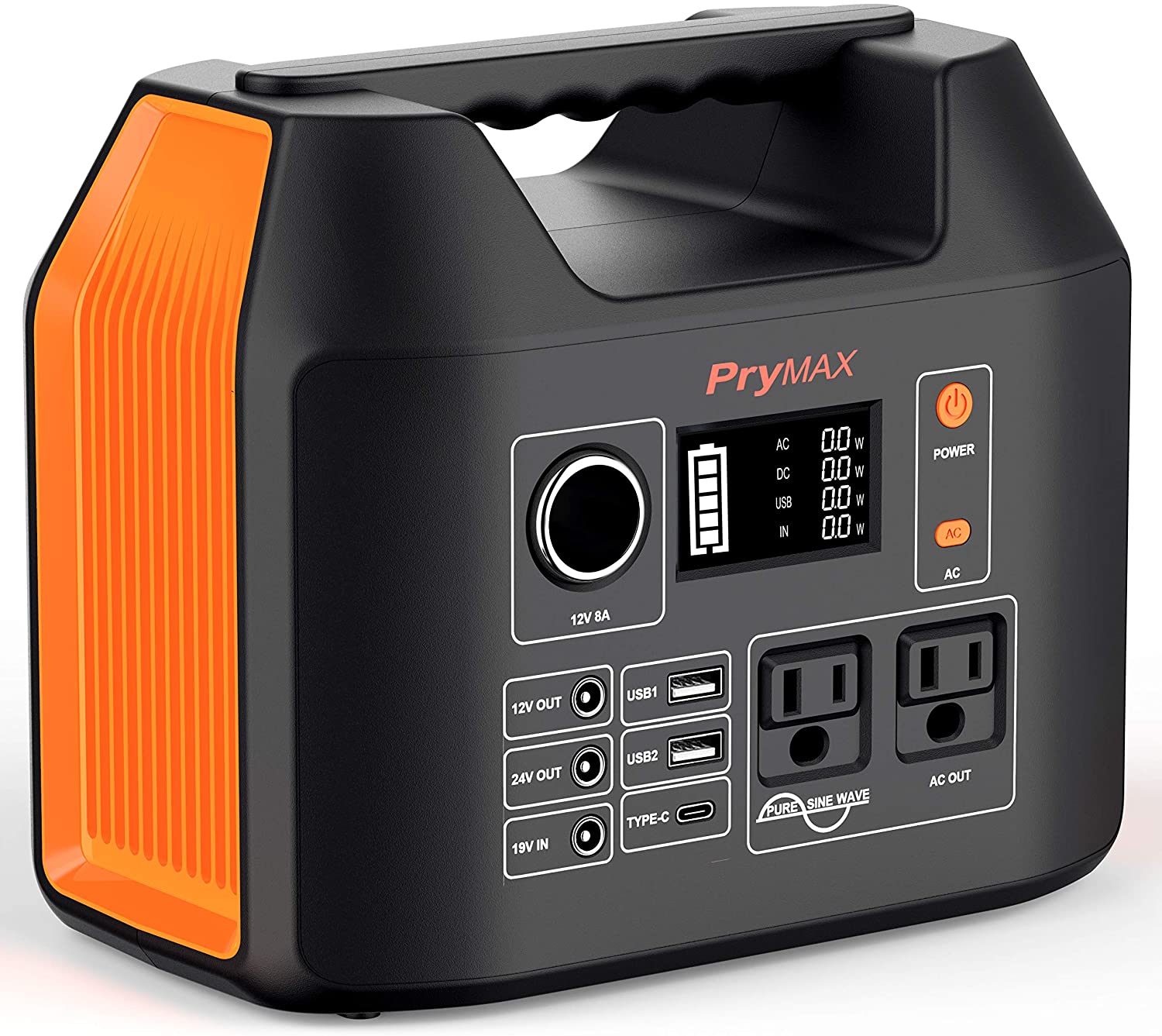 The Prymax Portable Power Station is a 298 watt-hours powerhouse for indoor and outdoor use and looks a lot sleeker than its mini-generator counterparts. It's the perfect choice when you're constantly on the move, weighing at a very lightweight 6.5 pounds for all that power it can hold.
This portable power station can power up mobile gadgets and pieces of equipment not exceeding 300 watts. It has 9 different ports, including a lighter cigarette port. The Prymax lets you plug in to all the multiple ports all at once. The great thing about this unit is that it provides overheat, over-voltage, and overload safety for its battery control scheme.
It also has two pure sine wave AC outlets for sensitive instruments like a Continuous Positive Airway Pressure machine, or CPAP, to help sleep apnea sufferers rest much better at night. Prymax's system can be used safely in enclosed quarters, as it does not use any kind of fuel, nor does it emit toxic gases. Its LED flashlight has two illumination modes—normal and SOS mode, which can be quite useful in emergencies.
Link to purchase Prymax Portable Power Station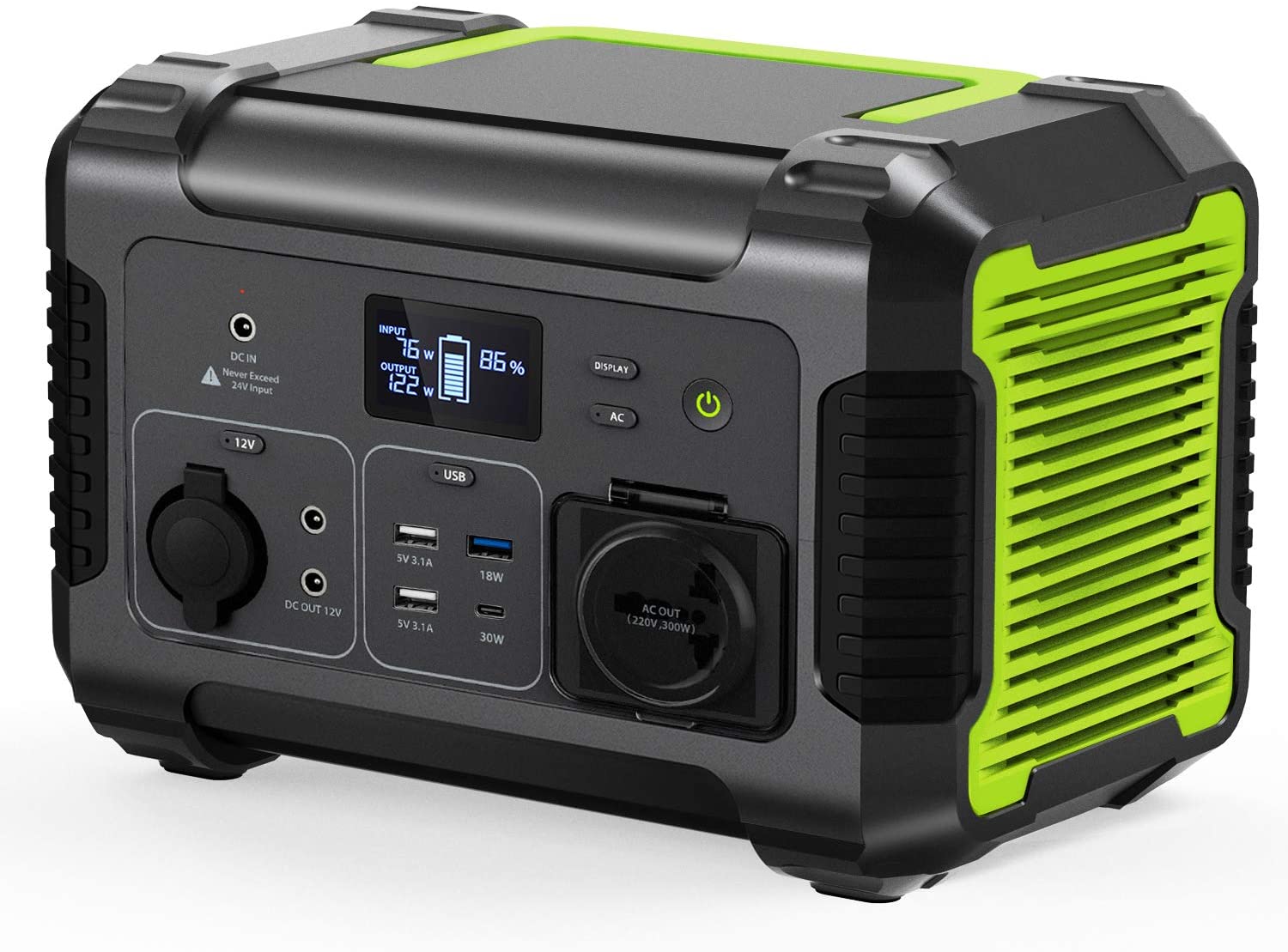 The Paxcess Rockman 300 Watts Portable Power Station integrates handheld source and inverter features into one glorious piece of equipment. Although it looks a bit cumbersome design-wise, the toughness of the Rockman is what makes it suitable for emergency situations, apart from its functionality for camping adventures and outdoor recreational sporting events.
Its 78,000 milliampere-hours rechargeable battery has enough voltage to power up devices with loads below 350 watts. The Rockman can be used along with a solar panel for charging and as a solar generator. Even with such a large electrical capacity, unbelievably, it takes only 5 to 6 hours of maximum charge time through a wall outlet to fully load the Rockman.
It provides reliable control with pure sine wave inverters, reducing the chance of damage to your equipment. It also offers up to six multi-safety protections; all planned to reduce electrical surge and injury. This portable power station weighs just 5.9 pounds and, when running, creates no sounds or vibrations. It is safe to use around children or pets since there are no fumes emitted while in usage.
Link to purchase Paxcess Rockman 300 Watts Portable Power Station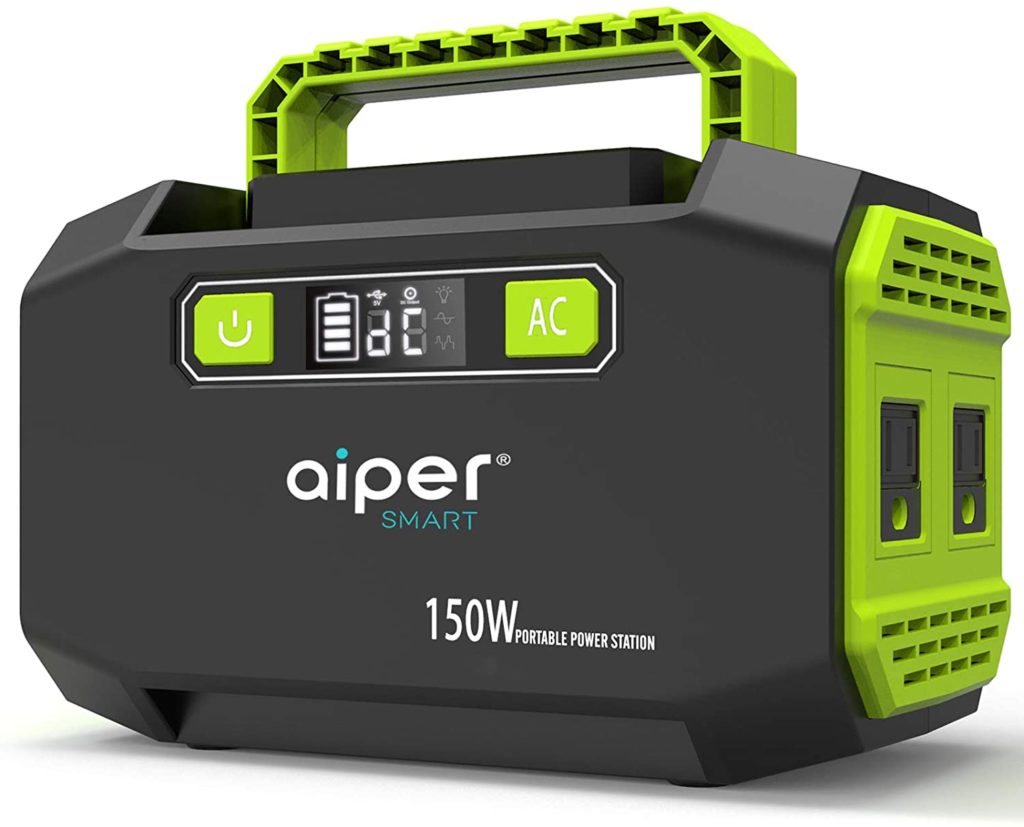 The Aiper Portable Power Station is an integrated system that provides mobile power ideally for outdoor trips but can also be used as a backup source in the case of emergencies and power outages.
You can easily charge the Aiper through an AC wall socket or with your car's charging port. You can also use any 60-watt solar panel to recharge its 45000 milliampere-hours battery. This power station will charge devices up to 200 watts of power. It has 2 AC ports, 2 USB ports, and 3 DC ports which will conveniently charge tablets, laptops, and drones, as well as any CPAP machines. It has plug-and-play support, making it ideal for home use as power backup. Its short-circuit, low-voltage, low-temperature safety and battery control systems ensure safety protocols to prevent any electrical hazards.
Link to purchase Aiper Smart Portable Power Station
If you buy Rockpals Power Supply for your next camping trip, you'll never have to worry about running low on your electrical supply while in the great outdoors because this solid device has built-in USBs for fast charging and a solid battery system that will power up to 3 heavy-duty equipment and up to 4 USB handheld devices at a time.
The high-capacity battery bank is very lightweight, and at just 7.7 pounds is very easy to carry. It supports pass-through charging, so you can still plug in your devices while you're simultaneously charging up your Rockpal as well. You also get AC and MC4 adapters, car charger cord, manual, and an 18-month warranty card with the whole kit.
You can charge it using 3 options – a wall outlet, a cigarette carport, or a 100-watt solar panel that you can purchase separately or as a bundle with Rockpals. The power station is made with a pure sine wave inverter to make the device as noiseless as possible, which also means it does not emit exhaust fumes.
Link to Rockpals 300 Watts Portable Power Station
Which of the following camping power supplies did you find the most functional for your particular outdoor or emergency needs? Tell us all about it in the comment section below!