Running is a great do-anywhere workout, but if you're tired of your usual routes or want a break from the hard hitting asphalt, you should give trail running a try.
I love trail running, it combines two of my favorite things: running and the outdoors. It's quite, not too crowded, full of beautiful sights, and easier on the feet.
Since relocating to California finding trails to run has been considerably easier (I tried to find the best trails in South Florida but things got a little…swampy).
The challenge when you're in an area with a lot of trails is finding the ones that are ideal for running. There's a lot of hiking apps but not all trails meet the standard for running (or at least my standard).
I'm looking for something that's got a good length so I'm not done in 20 minutes. No scrambling (climbing over rocks and stuff). I want to know if the trail is a loop or out-and-back. And I'm looking for trails that don't have a crazy steep grade so I can actually run them and not find myself climbing a mountain.
I've scoured the App Store for the best apps to help me find these trails and I'm sharing them with you now.
Trail Run Project
Part of the Project series of websites and apps now run by REI, Trail Run Project definitely lives up to its name and is my go to app for trail finding.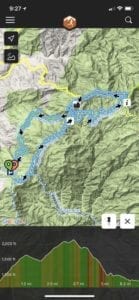 You can download areas to your phone and get suggestions of featured runs. Each trail has reviews, a pretty detailed description, some photos, an elevation map, condition updates if someone recently completed it, and notes on dog friendliness, flora, fauna, etc.
Search ability is lacking. You can't filter out trails but criteria like length or elevation. However the map view is very click friendly – just tap on a trail and get a detailed overlay right in the map. So instead of searching I find myself just scrolling around in map view adding interesting looking sites to my to-do list.
Definitely start here to see what's around you. Also check out Hiking Project. A lot of overlap with Trail Run Project but you might find some other trails.
Trail Run Project | Hiking Project
All Trails
All Trails is a pretty literal title – it's got just about any kind of trail imaginable. Unlike Trail Run Project you're able to filter out trails based on a bunch of criteria, including looking for trails tagged Trail Running.
However that's a bit subjective. When I searched for running trails near me I got some beach paths and boardwalks. While they're great running paths, if there isn't dirt beneath my feet I don't consider it a trail. So the noise ratio will be a bit higher with this app, but you're bound to find something you can run/walk/hike.
Gaia GPS
Not really an app for finding trails but it's my go-to GPS app when I'm entering unknown areas, doing multi-day hikes, or any other activity where I need to know where I've been and where I'm going with accuracy.
At it's most basic Gaia is a GPS app. However it has multiple map sources you can load from – street maps, topo maps, National Park Service maps. You also have fine control over downloading them – what area you want and how fine of a zoom level should be downloaded.
I've used this to track my ascent up Mt. Rainier. I used it on the Lost Coast trail where it saved us from a few wrong turns into the ocean. When I'm in a national park I use it to load up the free maps they give you at the entrance. Only now I've got my exact position on those maps, which are great for finding the best trails in the park.
Tip: Turn your phone on Airplane Mode. You'll save battery but your GPS will still work.
Dark Sky
Not a map app but you'd be silly to head outside and not know what the weather will be like. Dark Sky is my standard weather report. It's got freakishly accurate predictions for the weather at your exact location.
---
Hopefully you'll find inspiration and excitement from some of these apps. If you do use them try to be a good digital samaritan and give your feedback on the trail.
And if I left a great resource out please let me know below!